昼から家族と一緒に出かけました♪(*^^)o∀*∀o(^^*)♪
2時間ぐらいのドライブでカンパと言う所まで行きましたよ。
楽しいけど疲れた!
また、昨日髪の色を変わっちゃった!(^з^)-☆
こんな感じです~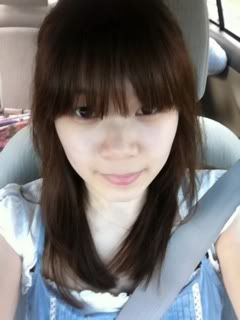 すっぴんな顔で、すみません。
休みの時はあんまりメークしてないから。
メークしすぎると肌に良くないと思うので。。
最近、肌の悩みばかりです~(笑)
*・゜゚・*:.。..。.:*・'(*゚▽゚*)'・*:.。. .。.:*・゜゚・*
Happy Sunday!!♪(*^^)o∀*∀o(^^*)♪
This is no 2Days 1Night and Qualifications of Men...*lame*
Well, went on a half day trip to Kampar! That's it!!
And YEAH!...I've finally changed my hair colour!
Lovin' this colour for now!ヾ(@⌒ー⌒@)ノ
Sorry if you think the picture looks horrible!!
My bare face without make-up!!(>人<;)
Too lazy to put on make-up during holidays.
Plus, I think my skin is becoming worst and worst after all the stress and sleepless nights during the study days.
That's why I thought I should allow my skin to breathe a little and am trying to rejuvenate it by not applying any make-up if possible.