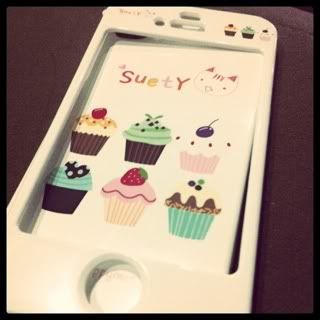 今日こんなにカワイイケースが届いた(^з^)-☆
2週間前にネットショップで買っちゃったもん☆〜(ゝ。∂)
最近ハマってる物はこれだ!
これからも色んなカワイイケースを集まりたい!
気付かなかったけど、カップケーキの事ばかり(笑)
前にネールはカップケーキだったね。。
ブログのテーマも。。
ケーキが好きだもんね♪( ´▽`)
ケーキと言えば、この休みにたいてい毎週・毎日はケーキを食べてるヾ(@⌒ー⌒@)ノ
甘いものが好きだって言えないけどさ、ケーキとチョーコレットしか食べてない!
ああっ、キャンディーも。。
甘い料理はあんまり好きじゃないけどね(^-^)/
♪(*^^)o∀*∀o(^^*)♪♪(*^^)o∀*∀o(^^*)♪
It's all about Cupcakes now!
My new case from net-shopping(^_^)☆
Previously, I had cupcakes on my nails and also I have them as my blog template!
I just simply love those pastel colors painted or covered on the cupcakes!♪( ´▽`)
Just so pretty, don't ya think so?!haha
I'm loving' everything bout cakes right now and I can tell you I've been eating cakes cakes and more cakes ever since holiday started..
Huge LOVE for cheesecake!ヾ(@⌒ー⌒@)ノ
And that's all about my new babeee!lol